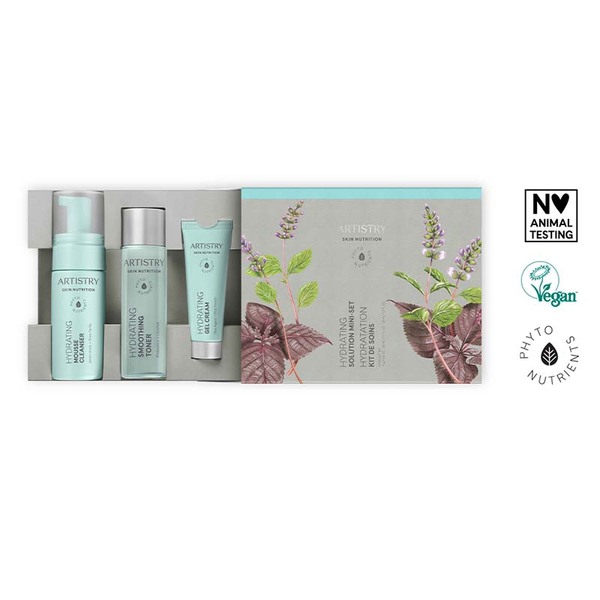 Travel-friendly, two-week supply of 3 products to keep your skin hydrated, smooth and dewy while helping it to resist premature signs of ageing.

What It Does For You
Don´t miss a day of your skincare routine, even when you're on-the go! These conveniently sized products are perfect travel companions that help you to keep your skin looking radiant and fresh, wherever life takes you.
Ready to say 'hello' to radiant, dewy skin? This kit is a great way for you to try new products for two weeks and experience the hydrating benefits for your skin.
The Artistry Skin Nutrition Beauty on-the-go Hydrating Travel Kit contains:
1x Artistry Skin Nutrition Hydrating Mousse Cleanser (50 ml)
1x Artistry Skin Nutrition Hydrating Smoothing Toner (50 ml)
1x Artistry Skin Nutrition Hydrating Gel Cream (15 g).
Why You Would Like It
Artistry Skin Nutrition skincare products go beyond traditional skincare, working like supplements for skin to reveal beautiful, visibly healthy-looking skin … with no compromises.
The Beauty on-the-go Hydrating Travel Kit helps you address your skin-hydration needs with three efficacious products – cleanser, toner and gel cream. With these three products, you can help keep your skin looking healthy, radiant and dewy …. all while resisting premature signs of ageing. As well as being great for travel, the smaller sizes also provide a great opportunity for you to try the Hydrating Solution for the first time.
Facts For You
Artistry™ Clean formulated, meaning NO: Mineral Oil, Parabens or Phthalates
Registered with The Vegan Society and free from all animal-derived ingredients, with no animal testing carried out
Dermatologically tested and allergy tested
Suitable for all skin types, including sensitive skin
Contain phytonutrients grown on our own Nutrilite™ or partner farms, with sustainable farming practices that respect the environment and the farming communities.
Key Features
Artistry Skin Nutrition™ Hydrating Mousse Cleanser
Removes impurities like dirt and pollution (including PM 2.5)
U.S.-Patented* blend soothes skin to reduce irritation
Skin microbiome friendly.
*U.S. Patent No. 8,057,830
Artistry Skin Nutrition Hydrating Smoothing Toner
Stabilises and nurtures the microbiome and keeps it in balance
Gives skin a fresh burst of hydration and conditioning
Prepares skin for benefits of products that follow.
Artistry Skin Nutrition Hydrating Gel Cream
Supercharges hydration levels for 24 hours
Prevents visible signs of premature ageing
Protects against irritation from pollution
Skin's natural moisture is improved, pores appear reduced.

How To Use
For use instructions for individual products, please visit the product pages:
Ingredients
For a full list of ingredients for individual products, please visit the product pages: